What makes the Eurovision Song Contest so special, is the countries that take part in the celebration. The Eurovision Song Contest sees over 30 countries taking part each year, the highest being around 42 last year in Baku, Azerbaijan. Those figures are nothing compared to the amount of the world's population watching it on the television - over 100 million each year tune in!
Who can take part?
The European Broadcasting Union (EBU) has a certain radius, called the European Broadcasting Area (EBA) to determine what countries can take part or not. The EBA includes some non-European countries, for example Morocco, Tunisia and Algeria. Israel can also take part because the EBA includes it. Iraq, Jordan and that territory of the Syrian Arab Republic, Turkey and Ukraine lying outside the limits are also included in the EBA.
Also, all active members of the EBU can take part in Eurovision. Each year, an invitation is sent out to all active members. Some choose to take part, some don't.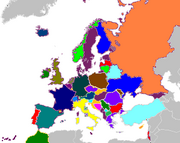 How do the countries choose their participant?
Participants are chosen either by a national selection, or an internal selection.
National Selections take place in countries interested in participating in the Eurovision that will eventually be held. Usually in some countries, it is televised, and hopefuls (even you!) can send in songs. A selection committee then picks the songs that will take part in the national selection, and a jury or the viewers (or both) then pick the winner.
Internal Selections are when a broadcaster picks the song for themselves, and a selection committee then picks the representing artist, and sometimes the songs have to be performed!
Trending pages
All items (54)
A
B
C
D
E
F
G
H
I
K
L
M
N
P
R
S
T
U
W
Y